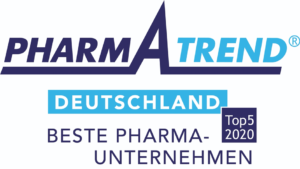 Amgen is ranked 4th in the interdisciplinary ranking "Best Pharmaceutical Companies in Germany" 2020 in the category "Research-based, leading global pharmaceutical companies in terms of sales". The most recent product innovation is Blyncyto®, which was named "The most innovative product" by oncologists in the Pharma Trend in the category Orphan Drugs 2018.
Amgen – pioneer of biotechnology
Amgen, headquartered in Thousand Oaks (California), is one of the world's largest biotechnology companies with sales of approximately $24 billion (2018). Amgen employs about 20,000 people worldwide. According to the company name (Applied Molecular GENetics), the company's success is based on recombinant DNA (bio) technology. Amgen developed the first blockbusters in the biotech industry (Epogen®, Neupogen®), numerous other biopharmaceuticals, especially monoclonal antibodies, and has numerous in the pipeline. The main growth drugs are Repatha® (hypercholesterolemia), Parsabiv® (hyperparathyroidism), Blincyto® (Most Innovative Product 2018 in the Orphan Drug Category, for acute lymphocytic leukemia), Nplate® (immune thrombocytopenia), Vectibix® (colon cancer) and Prolia® (osteoporosis in men and women). In 2019, another antibody against osteoporosis, Evenity® (collaboration with UCB Pharma) was approved. Amgen is also making a name for itself as a producer of biosimilars, imitation products of a biopharmaceutical (e.g. Amgevita®, Mvasi®).
In 2019, approximately $4.1 billion was invested in research and development (R&D). More than 200 employees work in R&D at the Munich site. Amgen's research activities include innovative antibodies against the coronavirus and development partnerships to establish an antibody therapy against SARS-CoV-2. In 2011, Amgen received the Galenus von Pergamon Award for Drug Innovation for Nplate® and Prolia®.
In mid-2020, Amgen and the Amgen Foundation provided $12.5 million to social and medical organizations worldwide during the COVID pandemic. Amgen GmbH and Amgen Research (Munich) donated US$ 100,000 to social institutions in Bavaria.
Blincyto® – Award for Innovation and Sustainability for Oncologists
Blincyto® from Amgen, one of the world's largest independent biotech companies, is used in a subtype of acute lymphocytic leukemia (ALL). For adult patients with a therapy refractory or relapsed Philadelphia chromosome negative, CD 19-positive B-cell precursor ALL, the immunotherapeutic agent blinatumomab represents a significant advance over chemotherapy and often the last hope, reason enough for the Oncologists' award "The most innovative product". Doctors praised the new, innovative mode of action (79%) and the extended spectrum of action or improved efficacy (46%) of Blincyto® as well as the novelty on the market (43%).
Multiple awards for Amgen for innovation and sustainability
Amgen has been awarded the "The Golden Tablet" for innovation and sustainability on several occasions. Blincyto® received the award "The most innovative product" for the first time in 2018: 2010 was the first time Prolia® was honored with this award.
Awards for innovation and sustainability for Amgen since 2000:
The Golden Tablet (2011-2010)
Blincyto® (2018)
Prolia® (2011, 2010)
About the award ceremony
Pharma Trend - Market research on innovation and sustainability