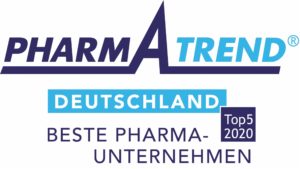 Bionorica is ranked second in the multidisciplinary ranking "Best Pharmaceutical Companies Germany" 2020 in the category "Large individual, medium-sized and international companies". In addition, Bionorica wins the pharmacists' award "The Golden Tablet" in the OTC category.

Leading in phytotherapy
Bionorica SE is a research-based, medium-sized manufacturer of herbal medicines based in Neumarkt in der Oberpfalz. The company was founded in 1933 in Nuremberg by the engineer Josef Popp. Among its first products was Sinupret, a herbal respiratory therapeutic that still holds a central position in the portfolio today. The respiratory tract has become the main indication area (Sinupret, Bronchipret, Imupret, Tonsipret, Rinupret), with further indications being the urinary tract (Canephron), gynaecology (Agnuscaston, Mastofynon, Klimadynon) and the liver (Silimarit).
In 2019, the Bionorica Group achieved sales of €333.3 million (2018: €310.7 million). In Germany, Russia and large parts of Eurasia, Bionorica is now the number 1 in the phytopharmaceutical market. The "phytoneering company" employs more than half of its 1,800 employees worldwide in Germany. In 2010, Bionorica AG was converted into a European public limited company, Bionorica SE; the group includes Phytoneering Extract Solution GmbH, Bionorica research GmbH in Innsbruck and Bionorica extracts S.L., which cultivates and extracts medicinal plants on Mallorca, as independent subsidiaries. The cannabis division of Bionorica was sold in 2019.
The focus of the research work is on the exploration and isolation of active plant substances in various indication areas: from metabolic syndrome and fatty liver, to chronic inflammatory bowel diseases, the microbiome and infectiology. Bionorica cooperates with more than 500 institutes, clinics and universities worldwide.
Bionorica follows the WHO standards for "Good Cultivation and Collection Practices" in the cultivation of medicinal plants. Resource conservation and recycling have a high priority.
Bionorica: Winner of the "Golden Tablet" Award 2020
In Pharma Trend, Bionorica has long been one of the notable names among pharmacists in the over-the-counter medicines market. In 2020, the research-based company was once again honoured by pharmacists with the award "The Golden Tablet". The decisive factors for the award by the pharmacists were the quality of the products (77%), the focus on therapeutic areas (52%) and the offer for further education and training (42%) as well as the company tradition and experience (32%).
Multiple awards for Bionorica for innovation and sustainability
Since the inception of the Pharma Trend benchmark study in 2000, 2018 was the first time the study was conducted in the OTC category among pharmacists. In the first year of implementation in 2018, Bionorica positioned itself at number 1 in the award "The Golden Tablet", the award for companies for innovation and sustainability, and also received the top1 ranking in 2019 and 2020.
Awards for innovation and sustainability since 2000:
About the Awards
Pharma Trend - The Market Research on Innovation and Sustainability