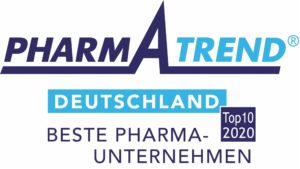 Grünenthal is ranked 10th in the multispecialty ranking "Best Pharmaceutical Companies Germany" 2020 in the category "Large Individual, Medium-sized and International Companies". In Pharma Trend, Grünenthal was awarded for innovation for the first time in 2020 with Palexia®, which received the award "The Most Innovative Product" in the Rx category from pain therapists.
Grünenthal: Pioneer in the pain field
Founded in 1946 in Stolberg (Rhineland), the family-owned pharmaceutical company has its corporate headquarters in Aachen and is represented by 29 companies in Europe, Latin America and the United States. With around 4,700 employees, Grünenthal GmbH generated sales of €1.4 billion in 2019. The lion's share is generated by the European and Latin American country organisations, after the business in Central and Eastern Europe was sold to STADA in 2011/12.
Grünenthal earned its reputation in pain research and treatment after a chequered history starting in the 1970s. In the centrally acting (opioid) analgesics segment, Grünenthal is the No. 2 in Europe and market leader in Latin America (as of 2019). Around half of sales are generated with analgesics, in particular opioid derivatives such as tramadol (Tramal, Zaldiar), tapentadol (Palexia), buprenorphine (Transtec, Norspan), the local anaesthetic lidocaine (Versatis) and the capsaicin-containing pain patch Qutenza for the treatment of neuropathic pain. In July 2020, Qutenza received an extension of approval from the US FDA for diabetic peripheral neuropathy.
Around 350 employees work in research and development. Expenditures amounted to €184 million in 2019, corresponding to 13.2% of sales. In 2019, the company's strategy was refocused on four core indications: peripheral neuropathic pain, chronic post-operative pain, chronic back pain and osteoarthritis. Grünenthal cites innovative analgesic peptide receptor agonists, glucocorticoid receptor modulators and a cell therapy (MPC-06-ID) for intervertebral disc degeneration in cooperation with Mesoblast as promising compounds.
With the help of the Grünenthal Foundation for Palliative Medicine, the first chair and a clinic for palliative medicine were established in Aachen in 2010. The company supports highly endowed research prizes in the field of pain.
Palexia®: The most innovative product for pain therapists
In Pharma Trend, Grünenthal has long been one of the notable names in pain therapy among pain therapists. The research-based company received the award for "The Most Innovative Product" for the first time in 2020 with its centrally acting painkiller (analgesic) Palexia®. The decisive factors for the award by pain therapists were the innovative active principle (45%), the improved effect (36%), the improved handling (35%) and the low side effects (35%).
First award for Grünenthal for innovation
Grünenthal received the award "The most innovative product" 2020 for Palexia® in the Rx category for the first time since the start of the Pharma Trend benchmark study in 2000.
Awards for innovation and sustainability since 2000:
About the Awards
Pharma Trend - The Market Research on Innovation and Sustainability